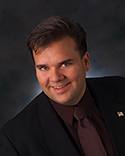 John Kissack
920-904-5646
Email
About John Kissack
John Kissack was born and raised on a family-owned and operated farm and beef ranching operation near the majestic Black Hills of western South Dakota, northeastern Wyoming, and southeastern Montana. John understands what farm life is all about, and feels highly respectful to his family for showing him why high morals and trusting business practices are essential in today's successful business culture. While growing up and living in the northern Black Hills area, John also earned 2 Bachelor of Science degrees from Black Hills State University in Spearfish, South Dakota. The first degree is in Operations Management and the second degree in Marketing Management.
After graduating from BHSU, John was then offered a rewarding position with General Electric. After the attacks of 9/11/2001, he moved near where his Mom had grown up on her family's dairy farm and cash crop farming operation near Eden, Wisconsin. Shortly after moving to WI, he had earned his Real Estate License issued directly from the State of Wisconsin. John has also continued to enhance his knowledge in all aspects of his real estate business by attending and testing in extra educational classes provided by WRA (Wisconsin Realtors Association), and also becoming an MLS (Multiple Listing Service) member of RANW (Realtors Association of Northeast Wisconsin), ranked as one of the best in the United States.
Areas of his real estate specialties are full spectrum including farm, ranch, cash crop vacant land, development vacant land, residential, commercial, and investment opportunity properties. It's no secret that the agricultural industry in past few years has made many significant strides through adaptations of new and improved products and technologies that not only offer a more efficient way of farming, but can also sometimes reduce some stress on the farmer and the animals; therefore creating a more harmonious business model overall. To keep up on these new challenges, John attends exciting trade show events such as The World Dairy Expo in Madison, WI, and also continues to subscribe and keep himself updated through various agricultural leadership contacts worldwide.
John has also spread his corporate wings a bit in other earlier business models; one of those having many years of experience in the travel and automotive industry by also working as an International Airport Operations Manager for The Hertz Corporation-Central Region based in Chicago, IL and Milwaukee, WI, where he hired, scheduled, managed, coordinated, and trained a large workforce while he simultaneously managed a large fleet inventory, coordinated maximum fleet utilization, monitored and coached sales results on a daily basis to achieve and maintain maximum sales revenue, profit, and increase as much market share as possible. Treating customers and employees like family is essential.
With John's expansive professional background, he is ready to help you in your real estate interests today! Contact John Kissack today at 920-904-5646.
Brath Dairy and Commercial Real Estate
Your Farm & Land Sales Specialist Phone: 920-251-8127
Fond du Lac, WI 54935